Sakshi Rohilla
Profile Image: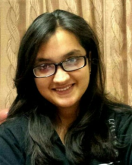 Email:
2018cez0007@iitrpr.ac.in & saakshirohilla710@gmail.com
Department:
Department of Civil Engineering
Biography:
Sakshi Rohilla has completed her B.Tech degree in Civil Engineering from Deenbandhu Chhoturam University of Science and Technology Murthal, Sonepat (Haryana) in 2016 and then earned M.Tech degree in 2018 from NIT Kurukshetra, in Soil Mechanics and Foundation Engineering. She joined IIT Ropar in 2018 and currently working on Dynamics properties of soils and rocks. 
Areas of Research:
Dynamic properties of soils and rocks, Earthquake geotechnical engineering, wave propagation in geomaterials.
Education:
B.Tech in Civil Engineering from Deenbandhu Chhoturam University of Science and Technology Murthal, Sonepat (Haryana)
M.Tech from NIT Kurukshetra, in Soil Mechanics and Foundation Engineering